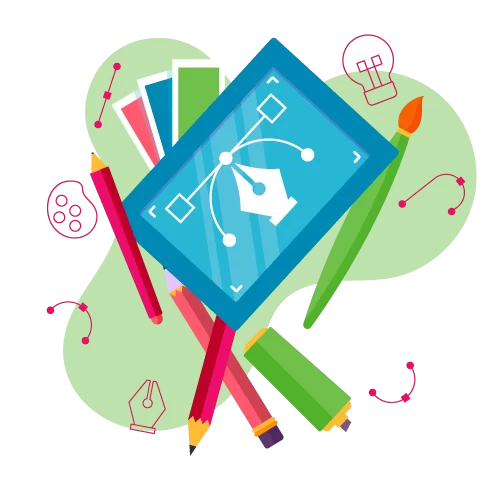 Graphic design is a trendy profession; the visual design is not just a pretty picture but part of the virtual world. Graphics is actively used in the creation of computer games and animation. To be able to do this exciting work, it is essential to comprehend the skills of graphic visualization.

The course "Graphic Design" - the choice of creative kids! Using various techniques from the Adobe Photoshop graphics editor, your kid will create icons, logos, drawings, technical illustrations, charts, and diagrams and learn about color correction, retouching, and creating collages. Creating everything with their own hands will "pump up" the creativity of kid thinking. During the learning process, our students build a portfolio of their work that can be used in the future.
Fundamentals of graphic design theory (composition, color, grids)

Basics of design and branding (logos, business cards, product labels, etc.)

Typography and creation of printed materials, perform with fonts and text

Adobe Photoshop Raster Graphics Editor Toolkit

The basics of photo retouching and image editing, creating collages.

Create drawings and illustrations, design book and magazine covers.

The kid will learn about corporate identity and create logos, original names, business cards, and company letterheads.

The important thing here is a confident presentation of kids' projects and working in a team to create joint projects.

Kids will be able to create​
Self-developed print and digital products: posters, posters, flyers, magazine spreads, simple illustrations, logos, and corporate identity elements (business cards, letterheads, envelopes, etc.). Some of them will be made by printing

Portfolio with your unique works on iconography, retouching, character development, and rendering.

His final unique project, which presents at the end of education.

HOW DOES THE GRAPHIC DESIGN
CLASSES GOES
In groups of up to 5 people
Programs are developed based on kids aged
Classes are recorded, and there is always the opportunity to repeat the material.
All training materials are located in your account​
Classes are scheduled on both weekdays and weekends.​
Teachers are practicing IT experts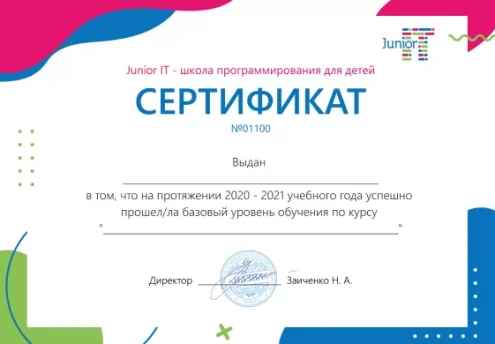 At the end of the education, we issue an official certificate.
Main activities in the academic year
Thursdays from 16:15 to 19:30
по пятницам с 16:00 до 19:15
по субботам с 09.:00 до 12:15
по субботам с 12:30 до 15:45
School Kyiv, m. Poznyaki, st. Dragomanova, 17
Main activities in the academic year
Thursdays from 16:15 to 19:30
по пятницам с 16:00 до 19:15
по субботам с 09.:00 до 12:15
по субботам с 12:30 до 15:45
School Kyiv, metro station Minska, Marshal's street Tymoshenko, 13A
Main activities in the academic year
по четвергам с 16:30 до 19:45
INTENSITY AND
COST OF EDUCATION
Once a week, 120-minute lessons with rest breaks.​
Throughout the academic year, according to the agreed schedule.
More than six years of experience teaching kids coding
Up to 1500 graduated kids
Over 5000 individual and group projects
The school itself is excellent. My daughter has been attending for two years now. She especially liked the course on a design by Irina Polyakova. The work was exciting. The teacher plunged them into the world of design! Children did projects, worked in a team, and each had his piece, his contribution to the joint work.
If your child loves computer science, he will like JuniorIT school! Firstly, charming, young, creative, and friendly teachers! Secondly, a lot of interesting things! Graphics, photoshop, programming. Interesting for both boys and girls! My son is having a lot of fun! Thank you!!!
There are an exciting set of courses not seen in other schools. The child is taking the C#/Unity course and is very satisfied with the teacher Masha, who has found an approach to children. Three hours of the lesson go by very quickly, and the child would be happy to study one more day a week. Recommended to everybody!!!
We were satisfied with the school - in the conditions of quarantine, we very quickly switched to online learning mode and finished the course without discomfort and technical failures.
Register by selecting your preferred messenger