Kid's Coding projects at Junior IT
The Animated video about Karl and the donkey was made by students Igor Melnikov and Gleb Lelikov under the guidance of Alexander Tsetsora
New Year's video – congratulations were created by students Denis Overchuk, Bogdan Vorobyov, and Denis Lozovoy under teacher Vitaly Basyuk.
We invented the idea together, but we created the video models independently. For example, Denis Overchuk modeled the robot hand that puts presents in the sleigh, just like the Santa Claus sleigh. The house of Santa Claus, snow-covered Christmas trees, a mailbox – the work of Bogdan Vorobyov. Many different gifts, a conveyor with skills, and the estate's fence made by Denis Lozovoy.
So, in creating a project, the 3D Maya program is being studied.
Narcissism – a state of obsession with accepting others and the satisfaction of contemplating one's appearance – is becoming a big problem in our digital age.
These actions are not as harmless as they seem. They can create false self-confidence or even lead to compulsive behavior. The more love and likes we get on social media, the happier we feel. However, such behavior may be a prerequisite for developing more acute mental problems in the future. How far can obsession go?
Eduard Terletsky, a student of the Flash Animation course, teacher – Elizaveta Bezruchko, showed his vision of this problem in the animation project "People."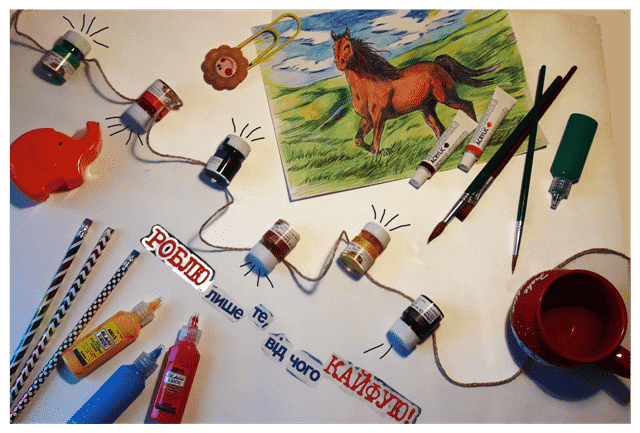 "I only do what I'm excited about" – the work of Daria Guna. Teacher Irina Polyakova
This course is for kids who would like to dive into game development. Classes will be an excellent incentive to understand the fundamental processes required in game development. Classroom activities allow you to immerse yourself in this atmosphere and believe that even one person can make a game independently.
In the classroom, kid's got acquainted with one of the modern game engines, Unreal Engine 4. We were able to create our first game, bringing a piece of our individuality into it. Familiarize yourself with the fundamentals of programming theory. We are developing materials, particle systems, lighting basics, and post-processing processes.
Below is the work of the students who created the Pac-Man game. Pac-Man is a round yellow creature with only one mouth. The player's task is to collect (eat) all the white dots on the level, avoiding collisions with ghosts. The story ends when all dots are eaten.
Egor Trokhimchuk actively uses transitions between levels in game development with the creative use of visual effects.
Nikita Konovalov presented his project as colorful and dynamic, with many bonuses and ideas he already knows how to translate into reality. He has his strategy, and everything is thought out to the smallest detail.
Pasha Konovalov approached the project with great enthusiasm on New Year's Eve and decorated his characters with holiday paraphernalia! Idea became reality
Alina Suvorova showed her originality and creativity in the image of the game!
Egor Sudas showed his creative thinking. With a bit of perseverance and even bigger tasks will be possible. Only forward!
Slavik Gukalov carefully approached the game's development, using a vertical transition from one level to another. Well done!